Quick Facts
| Name: | Bullet Time AR |
| --- | --- |
| Genre: | AR, FPS, Action, Cyberpunk |
| Platforms: | Android and iOS |
| Price: | Free w/ Opt-in Ads and In-App-Purchases |
| Release Date: | Early Access opening in August 2019. |
| Developer: | Coal Interactive |
| Location: | Beijing and Los Angeles |
| Technology: | Unreal Engine, ARCore, ARKit |
| Rating: | Teen |
| Website: | http://www.BulletTimeAR.com |
| Social: | |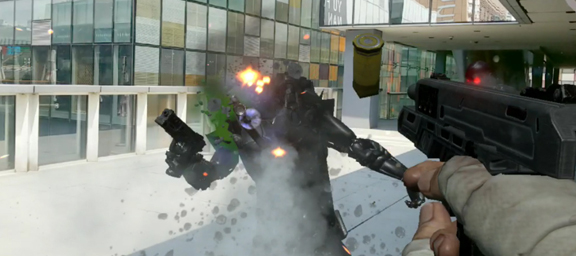 Game Introduction
Bullet Time AR brings the visceral satisfaction of slow-motion gunplay and brawler game mechanics to the accessibility of your Android or Apple phone. Shoot and dodge bullets. Throw and catch guns. Throw punches and block them. All while being hunted by an onslaught of enemies navigating in the real world with augmented reality. Taps and gesture inputs are intuitive and native to the platform. Lovingly crafted and brought to you by a small team of AAA game developers gone indie. This isn't just another casual mobile game...


Our Story
Bullet Time AR was started by Sam Wey and Gary Brunetti; both triple A game developers who transitioned to virtual reality and augmented reality, collectively known as extended reality (XR). During these formative years of XR, it has been exciting and dynamic. There has been a lot of investment, hype, and non-game industry folks jumping into this new medium. Some tell stories, hustle, promote technology, and educate. While this presents a lot of opportunities, it compromised the reasons Sam and Gary got into game development in the first place; to make badass games that they love.
To this end, Bullet Time AR represents a return to Sam and Gary's core motivations as creators and is a confluence of everything that they love; slow motion first person shooters, cyberpunk, and emerging new VR/AR technology. Both grew up on FPS games like Quake and loved the slow motion mechanics of Superhot VR. However, VR is still a bit cumbersome and lacks reach. They saw an opportunity to bring slow motion gunplay and triple A production values to ubiquitous, mobile AR. Smartphones are also an incredibly rich input device which deserves games that leverage their unique affordances. The initial scope of Bullet Time AR is deliberately small and manageable. Coal Interactive's initial release will focus on core gunplay and get this feeling visceral and fun. Moving forward, the team will listen to players, iterate, and grow the project in exciting new ways. Everything is on the table, including multiplayer, AR narrative elements, GPS-enabled missions, and eventual transitions to headset AR. This is just the beginning.
Request a Copy
BTAR is currently approaching alpha but we can notify you when it's ready for press. Please email
from your professional email address with the subject line: "Request a Copy". Please include:
your name
name of your channel or website
whether you're on iOS or Android
Credits
Creative Director: Sam Wey
Technical Director: Gary Brunetti
Design and Monetization Advisor: Steve Yoshimura
Design Advisor: Seiji Tanaka
Concept Artist: Matt Hubel
Animator: Ye Feng 野风
Special Thanks: Ruby Wan
Video: Pre-Alpha Announce Trailer
Link
Youtube Embed Code

<iframe width="560" height="315" src="https://www.youtube.com/embed/nSOOjl6XRJs" frameborder="0" allow="accelerometer; autoplay; encrypted-media; gyroscope; picture-in-picture" allowfullscreen></iframe>
						
Permission Disclaimer
The content on this page is free to use in commercial use for any media outlet that wishes to report on Coal Interactive and Bullet Time AR.