Legendary
Screenshots &amp Breakdown
Contributions and Responsibilities:
Team lead for last level of the game. Maintained lines of communication between departments
Created a library of high quality environment assets.
Level streaming, asset management, shader network setup, BSP editing, dressing, lighting, and prop animation (matinee) in the Unreal 3 editor.
optimized, polished, and adapted existing particle FX to fit level needs.
Mentored and managed new team members.
---
Screenshots
Cathedral
Created modular architectural system of arches, pillars, vaulted ceiling, and walls for cathedral level.
created bridge; pulling normal from high poly model.
props: rose window with destructible and particle FX, stained glass window with destructible and particle FX, ceiling destruction, destructible thin pillars and arches, lamp.
---
Cemetery
Created suite of vine variations and grass variations. Vine material is able to rustle in wind.
Created main arch wall and lighting polish on this piece.
Angel statue; normal maps created in photoshop. Created in about 8 hours.
---
Durham, England Street 1
Major BSP rework
All Dressing and lighting except in first shot in this series.
Optimization
Bug fixing
Particle FX placement and kismet toggles.
Dynamic lighting kismet toggles.
Props: scattered bricks, false ceiling and destroyed false ceiling, blood puddle normal and material polish, trash, air duct above false ceiling
---
Lab
Team lead.
Major BSP rework
Dressing
Lighting
Optimization
Polish
Dynamic lighting kismet toggles.
Props: operating light, destroyed handrails
---
Order Tower Lobby
Team lead.
BSP rework
Dressing
Initial Lighting
Optimization
Polish
Dynamic lighting kismet toggles.
Helicopter crash particle FX optimization
elevator animation and functionality kismet
Props: office plants, upper floors, elevator, couches with destructible
Bug fixing
---
NY Museum
Props: ceiling material and mesh, ceiling and floor trim, pedestal destructible, statue destructible, reception desk
animated ceiling material with crack that spreads radially
pristine and destroyed floor components
laid out modular system for museum lobby domed ceiling and architecture. Did not create final meshes and materials.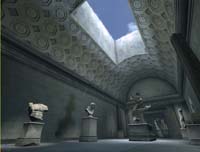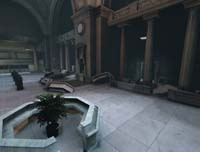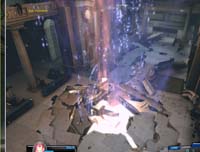 ---
Last level of game
Team Lead
Overhauled gameplay and player path
Overhauled level layout
Dressing
Lighting
Optimization.
Bug fixing
Prop animation
General prop materials polish.
Props: Building facade, bridge, generator destructible, crate, lamp, atrium trim,
---
Sewer
Overhauled BSP layout
Dressing
Lighting
Particle fx placement and kismet toggles.
Props: caged light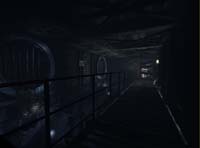 ---
Miscellaneous props
exit sign
starbucks chair
st francis statue
subway LED marquee with scrolling text.